You are here
Mediasite
The MyMediasite Portal is a comprehensive video platform managed by the office of Instructional Media Services.
To access the portal, visit http://mymediasite.bloomu.edu.
Any questions regarding use of this system may be directed to mediasite@bloomu.edu.
Learn more about how Bloomsburg uses Mediasite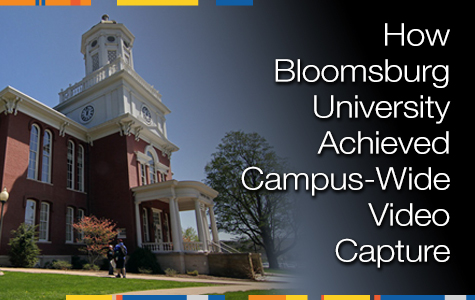 For the past six years, with Mediasite as the backbone of its video initiative, Bloomsburg University of Pennsylvania has recorded everything happening on campus. Classroom projects, student teachers on the job, role-playing activities, campus events, lectures for flipped instruction, faculty research and focus group discussions are all recorded and rolled into one video management and creation platform.
Now, it's going a step further with a streamlined user-generated content strategy and a multi-perspective video feature which adds real-life dimension and serves to deepen engagement for any live or on-demand video.
Click here to watch the recorded webinar!
For Faculty:
Are you uploading videos to BOLT for your students to watch outside the classroom or in courses offered via distance? Are you assigning video projects that your students need to submit for faculty and/or peer review? If so, please consider using Mediasite as your streaming video service. In a few steps you can upload your videos to Mediasite, add Quicklinks in BOLT, or share via email.
Overall Advantages
Compatible with PC and Mac.
Video streams to students (no downloading).
Authentication integrated with BOLT, no third party accounts necessary (YouTube/Google, Vimeo, etc.)
If a viewer leaves the video, playback will resume where they stopped.
Catalog option so only one link needs to be added to BOLT for multiple videos.
File types accepted include Flash, MPEG, AVI, Quicktime/MOV, and Windows Media. (Complete List)
BOLT Integration
The MyMediasite Portal is accessible under the Student Resources tab.
All Students and Faculty may use this link to upload video assignments, retrieve videos they previously published, and share their presentations.
Authorized Faculty and Staff may also use this link to access presentations recorded using integrated classroom systems, organize their presentations, and share them with students.
The Mediasite System Management Portal is accessible under the Faculty Resources tab.
Authorized Faculty and Staff may use this link to access management functions such as remote control of classroom systems, advanced analytic reports, recorder scheduling, etc.
Users not granted access to these management functions will be automatically redirected to the MyMediasite Portal described above.
Mediasite Desktop Recorder (MDR)
MyMediasite includes a desktop recorder application. MDR offers a simple workflow for recording narrated presentations and other computer based demonstrations including a 'talking head' video window similar to Camtasia, Captivate, Jing, etc. with no time limit, additional licensing fees, or third party outsourcing.
To get started, Download the Desktop Recorder. Please note, you must have administrative rights to the local computer to install the application.
PowerPoint Narration
In many cases, the 'talking head' element offered by the Desktop Recorder application is not necessary and all components of the lecture are contained within a PowerPoint Presentation. In this scenario, the Record Narration function of PowerPoint is often the easiest method to produce an online lecture.
Benefits:
Function native to PowerPoint, no additional software required.
Narration can be edited one slide at a time, no need to start over after mistakes or when content changes.
Audio and Video within the presentation will be preserved at maximum quality.
Limitations:
All content must be contained within PowerPoint, web pages and online video cannot be included.
Webcam video is not captured.
Directions:
CAUTION! PowerPoint 2007 and earlier files (*.ppt) will not retain narrations, you MUST up convert your file to the current PowerPoint file format (*.pptx) before recording your narrations.
Add narrations to your PowerPoint Presentation: Recording and narrating a slideshow (2:17)
Export your completed PowerPoint Presentation as a video file: Saving your presentation as a video (2:37)
Upload the resulting video file to MyMediasite: Basic Video Upload to MyMediasite (PDF)
Mediasite Web Editor
MyMediasite also includes a web based video editing application. The Mediasite Editor provides basic editing functions for trimming unwanted segments of a presentation and adjusting slide content.
Integrated Classroom Recorders
Permanent recording systems are integrated in the following rooms on campus:
AL 419 - Teaching and Learning Enhancement Center - Conference room configuration - 18 seats
BCH 005 - Distance Learning Classroom - Also includes Polycom Telepresence - 40 seats
MCHS 1230 - Communication Studies Research Lab - Conference room configuration - 20 seats
SH 102 - Zeigler College of Business Lecture Hall - 75 seats
SH 214 - Instructional Technology Classroom - 30 seats
These recording systems capture video of the presenters via robotic cameras in the back of the room as well as high resolution images of any content projected from the IMPS station.
Instructions for using these systems are included in the Tutorials section below. For individual or class training on a system, please contact mediasite@bloomu.edu.
Mobile Recording System
The Instructional Media Services Office also maintains a mobile recording system that can be used in virtually any presentation space on campus. This system includes a High Definition Camera, wireless microphones, and connections to integrate with any classroom presentation system. For information regarding this systems or to request event recording services, please contact mediasite@bloomu.edu.
Examples
Mediasite Desktop Recorder offers 4 methods of content capture:
Screencast + Video - Full motion screen capture with webcam and audio narrration
Screencast - Full motion screen capture with audio narration
Slideshow + Video - Slideshow of still image screen capture (no animation) with webcam and audio narration
Slideshow - Slideshow of still image screen capture (no animation) with audio narration
Videos created with third party tools such as PowerPoint, Captivate, Camtasia, iMovie, and Windows Movie Maker may also be uploaded and shared through MyMediasite:
Upload Media - Full motion of screen with audio narration edited with additional software
Copyright
For questions about Copyright compliance and Fair Use, please consult the Andruss Library Copyright page.
Tutorials
Please select your desired topic below.
Video Only Uploads
General Instructions
Mac/QuickTime Based Classroom Recording Systems
Classroom Integrated Mediasite Lecture Capture Systems