You are here
Music Division

Dr. Stephen Clickard, Chair
Email: sclickar@bloomu.edu
Linda Fisher, Secretary
Email: lfisher@bloomu.edu

Phone 570-389-4286
Fax 570-389-5010

The Bloomsburg University Music Department is Accredited by NASM (National Association of Schools of Music)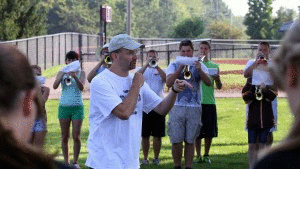 The Division of Music exists within the framework of the University and the College of Liberal Arts, offering a Bachelor of Arts Degree with a major in music, including three tracks of concentration:
Music Education Certification K-12 (which is accredited with the Pennsylvania Department of Education)
Audio-Video Recording
Liberal Arts 
The Department of Music strives to maintain course requirements, performance objectives, and an artistically enriched environment conducive to the development of the comprehensive musician and to meet the requirements of accrediting organizations. In the spirit of a liberal arts setting, the department of music also recognizes a responsibility to the general student population to provide the opportunity for musical experience and provide artistic leadership to the university and the community.
---
Audition Dates 2016-2017
Scholarships Available!
February 25, 2017 (scholarship audition date)
March 25, 2017 (scholarship audition date)
April 29, 2017